Ad blocker interference detected!
Wikia is a free-to-use site that makes money from advertising. We have a modified experience for viewers using ad blockers

Wikia is not accessible if you've made further modifications. Remove the custom ad blocker rule(s) and the page will load as expected.
Introduction
Click the Trading Post building to trade.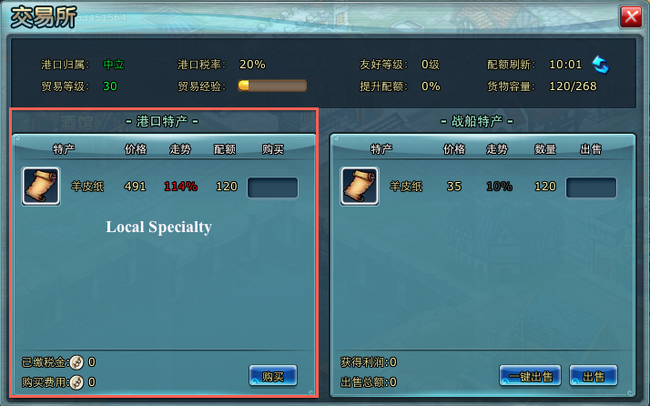 Every harbor has their own local specialty. Price is refreshed once an hour and buyable quantity are refreshed every 30 mins. Harbor owned affliation is tax exempted. Selling price is decided by the distance of the 2 harbors. Harbor's Friendliness level will increase the quantity of the products.
Popular Specialty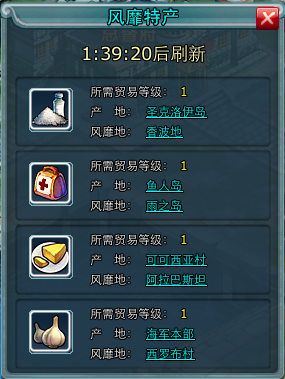 Popular specialty is refreshed every 3 hours. The list shows the products location and destination. All popular specialty is selling at base price x 240% (price is determined by the distance of the 2 harbor)
Local Specialty
Location
Specialties
1
2
3
4
Alabasta

Tomato
Trade Lv: 1

Caster Sugar
Trade Lv: 10

Silver Jewelry
Trade Lv: 50

Sapphire
Trade Lv: 90
Amazon Lily

Corn
Trade Lv: 1

Coal
Trade Lv: 50
-
-
Baratie

Beef
Trade Lv: 1

Ham
Trade Lv: 10
-
-
Cocoyasi Village

Butter
Trade Lv: 1

Brass
Trade Lv: 30
-
-
Drum Island

Egg
Trade Lv: 1

Lobster
Trade Lv: 30
-
-
Fishman Island

Medikit
Trade Lv: 1

Coral
Trade Lv: 70
-
-
Holy Land Mariejois

History Book
Trade Lv: 1

Cannon
Trade Lv: 60

Gold
Trade Lv: 80
-
Impel Down

Parchment
Trade Lv: 1
-
-
-
Jaya

Scorpionfish
Trade Lv: 1

Cherry
Trade Lv: 20
-
-
Judicial Island

Navy Hat
Trade Lv: 1

Dagger
Trade Lv: 20
-
-
Little Garden

Dinosaur Meat
Trade Lv: 1
-
-
-
Loguetown

Rice
Trade Lv: 1

Knife
Trade Lv: 20

Gemstone Ring
Trade Lv: 90
-
Long Island

Chicken Meat
Trade Lv: 1
-
-
-
Marineford

Garlic
Trade Lv: 1

Brandy
Trade Lv: 60
-
-
Mystoria Island

Beer
Trade Lv: 1
-
-
-
Orange Town

Octopus
Trade Lv: 1

Iron
Trade Lv: 30
-
-
Punk Hazard

Rudder
Trade Lv: 1
-
-
-
Rain Island

Coffee Bean
Trade Lv: 1

Sulphur
Trade Lv: 70
-
-
Risky Red Island

Cheese
Trade Lv: 1

Fossil Oil
Trade Lv: 70
-
-
Sabaody

Pepper
Trade Lv: 1

Jam
Trade Lv: 30

Ruby
Trade Lv: 90

Bon Chari
Trade Lv: 100
Saint Croix

Salt
Trade Lv: 1

Stone
Trade Lv: 10

Firelock
Trade Lv: 40
-
Shimotsuki Village

Flour
Trade Lv: 1

Wood
Trade Lv: 10

Katana
Trade Lv: 40
-
Syrup Village

Soy Sauce
Trade Lv: 1

Honey
Trade Lv: 30
-
-
Thriller Bark

Vinegar
Trade Lv: 1
-
-
-
Thunder God Island

Tobacco
Trade Lv: 1

Armor
Trade Lv: 60

Grace Wine
Trade Lv: 80

Amethyst
Trade Lv: 100
Torino Kingdom

Wheat
Trade Lv: 1

Waver
Trade Lv: 80

Jade
Trade Lv: 100
-
Water 7

Mizu Mizu Meat
Trade Lv: 1

Wine
Trade Lv: 20

Steels
Trade Lv: 50
-
Location
Specialties
1
2
3
4
Alabasta
Tomato
Trade Lv: 1
Caster Sugar
Trade Lv: 10
Silver Jewelry
Trade Lv: 50
Sapphire
Trade Lv: 90
Amazon Lily
Corn
Trade Lv: 1
Coal
Trade Lv: 50
-
-
Baratie
Beef
Trade Lv: 1
Ham
Trade Lv: 10
-
-
Cocoyasi Village
Butter
Trade Lv: 1
Brass
Trade Lv: 30
-
-
Drum Island
Egg
Trade Lv: 1
Lobster
Trade Lv: 30
-
-
Fishman Island
Medikit
Trade Lv: 1
Coral
Trade Lv: 70
-
-
Holy Land Mariejois
History Book
Trade Lv: 1
Cannon
Trade Lv: 60
Gold
Trade Lv: 80
-
Impel Down
Parchment
Trade Lv: 1
-
-
-
Jaya
Scorpionfish
Trade Lv: 1
Cherry
Trade Lv: 20
-
-
Judicial Island
Navy Hat
Trade Lv: 1
Dagger
Trade Lv: 20
-
-
Little Garden
Dinosaur Meat
Trade Lv: 1
-
-
-
Loguetown
Rice
Trade Lv: 1
Knife
Trade Lv: 20
Gemstone Ring
Trade Lv: 90
-
Long Island
Chicken Meat
Trade Lv: 1
-
-
-
Marineford
Garlic
Trade Lv: 1
Brandy
Trade Lv: 60
-
-
Mystoria Island
Beer
Trade Lv: 1
-
-
-
Orange Town
Octopus
Trade Lv: 1
Iron
Trade Lv: 30
-
-
Punk Hazard
Rudder
Trade Lv: 1
-
-
-
Rain Island
Coffee Bean
Trade Lv: 1
Sulphur
Trade Lv: 70
-
-
Risky Red Island
Cheese
Trade Lv: 1
Fossil Oil
Trade Lv: 70
-
-
Sabaody
Pepper
Trade Lv: 1
Jam
Trade Lv: 30
Ruby
Trade Lv: 90
Bon Chari
Trade Lv: 100
Saint Croix
Salt
Trade Lv: 1
Stone
Trade Lv: 10
Firelock
Trade Lv: 40
-
Shimotsuki Village
Flour
Trade Lv: 1
Wood
Trade Lv: 10
Katana
Trade Lv: 40
-
Syrup Village
Soy Sauce
Trade Lv: 1
Honey
Trade Lv: 30
-
-
Thriller Bark
Vinegar
Trade Lv: 1
-
-
-
Thunder God Island
Tobacco
Trade Lv: 1
Armor
Trade Lv: 60
Grace Wine
Trade Lv: 80
Amethyst
Trade Lv: 100
Torino Kingdom
Wheat
Trade Lv: 1
Waver
Trade Lv: 80
Jade
Trade Lv: 100
-
Water 7
Mizu Mizu Meat
Trade Lv: 1
Wine
Trade Lv: 20
Steels
Trade Lv: 50
-