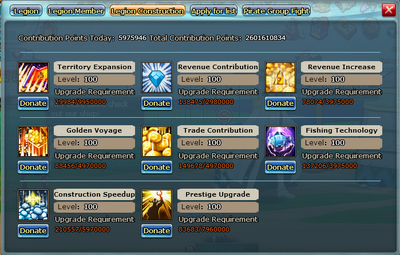 Name
Description & Note
Unlocked

Territory Expansion
Raise Pirate Group Level and the crew number cap
Lv 1
Note: Unlock more skills with each level and raises the cap on the number of your crew

Revenue Contribution
Contribute extra silver from taxation to pirate group for territory expansion
Lv 10
Note: Certain chances at taxation lets you contribute 10% of the silver you earned from taxation to Territory Expansion (Does not reduce the amount of silver you earn)

Revenue Increase
Increase silver income for taxation
Lv 10
Note: Increase 0.2% silver per level

Golden Voyage
Increase Regular Income of merchant fleet
Lv 20
Note: Increase 0.2% prestige per level

Trade Contribution
There's certain odds of generating extra regular income to contribute to pirate group for gold voyage construction when merchant fleet is open for trade
Lv 20
Note: Increase the chance of silver donation during fishing (Does not reduce the amount of silver you earn)

Fishing Technology
Yield more silver from fishing
Lv 30
Note: Increase 0.2% silver per level

Construction Speedup
Increase the amount of contributed silver for pirate group construction
Lv 50
Note: Each level increases 1% of maximum silver you can donate each day

Prestige Upgrade
Obtain more prestige in the battle
Lv 60
Note: Increase 0.3% prestige per level
Ad blocker interference detected!
Wikia is a free-to-use site that makes money from advertising. We have a modified experience for viewers using ad blockers

Wikia is not accessible if you've made further modifications. Remove the custom ad blocker rule(s) and the page will load as expected.