Ad blocker interference detected!
Wikia is a free-to-use site that makes money from advertising. We have a modified experience for viewers using ad blockers

Wikia is not accessible if you've made further modifications. Remove the custom ad blocker rule(s) and the page will load as expected.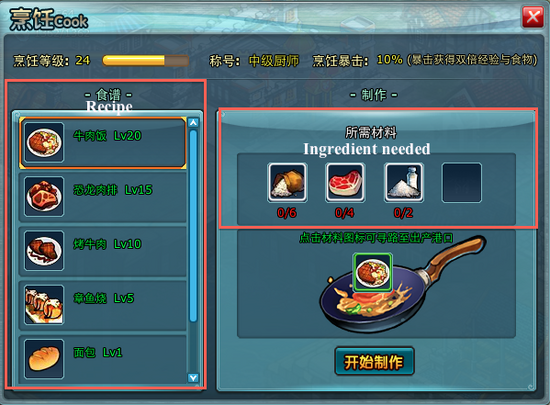 Cooking Exp :
The highest level recipe you have gives 100 EXP, the 2nd highest gives 50 EXP and all other recipes gives 10 EXP. A Cook Crit earns twice the EXP of the recipe.
Lv
Recipe
Ingr1
Ingr2
Ingr3
Ingr4
1

Bread

2* Flour
Shimotsuki Village


2* Salt
Saint Croix

-
-
Adds 40 points of food
5

Takoyaki

4* Octopus
Orange Town


2* Soy Sauce
Syrup Village

-
-
Increases Warship's HP by 180 points, lasting for 5 minutes
10

Roast Beef

4* Beef
Baratie


4* Butter
Cocoyasi Village

-
-
Increases Warship's Attack by 60 points, lasting for 5 minutes
15

Dinosaur Steak

6* Dinosaur Meat
Little Garden


3* Butter
Cocoyasi Village

-
-
Increase warship´s Defense by 30 points, lasting for 5 minutes
20

Beef Bowl

6* Rice
Loguetown


4* Beef
Baratie


2* Salt
Saint Croix

-
Increase warship´s attack speed by 30 points, lasting for 5 minutes
25

Beef Noodle

8* Flour
Shimotsuki Village


4* Beef
Baratie


4* Soy Sauce
Syrup Village

-
Adds 200 points of food
30

Egg Fried Rice

10* Rice
Loguetown


4* Salt
Saint Croix


4* Egg
Drum Island

-
Increase warship´s sailing speed by 50 points, lasting for 5 minutes
35

Seafood Rice

5* Scorpionfish
Jaya


5* Octopus
Orange Town


10* Rice
Loguetown

-
Increases Warship's HP by 1800 points, lasting for 5 minutes
40

Mizu Mizu Meat

12* Rice
Loguetown


6* Mizu Mizu Meat
Water 7


6* Soy Sauce
Syrup Village

-
Increases warship's Attack by 600 points, lasting for 5 minutes.
45

Cherry Pie

12* Cherry
Jaya
Trade Lv: 20


12* Flour
Shimotsuki Village


4* Caster Sugar
Alabasta
Trade Lv: 10

-
Increases warship's Defense by 400 points, lasting for 5 minutes.
50

Beef Noodle with Egg

12* Flour
Shimotsuki Village


8* Beef
Baratie


8* Egg
Drum Island


8* Salt
Saint Croix

Increase warship´s attack speed by 150 points, lasting for 5 minutes
55

Rice with Tomato and Egg

12* Rice
Loguetown


12* Tomato
Alabasta


12* Egg
Drum Island


8* Salt
Saint Croix

Increase warship´s sailing speed by 100 points, lasting for 5 minutes
60

Grill Chicken Chop

16* Chicken Meat
Long Island


12* Butter
Cocoyasi Village


12* Soy Sauce
Syrup Village


8* Beer
Mystoria Island

Increases Warship's HP by 3500 points, lasting for 10 minutes
65

Salt Lobster

12* Lobster
Drum Island


12* Butter
Cocoyasi Village


12* Pepper
Sabaody


12* Salt
Saint Croix

Increases warship's attack by 1200 points, lasting 10 minutes
70

Seafood Noodle

16* Octopus
Orange Town


12* Scorpionfish
Jaya


12* Lobster
Drum Island


12* Flour
Shimotsuki Village

Increases warship's defense by 800 points, lasting 10 minutes
}