What's new in chapter 4:
This is the version after chapter 3, so they probably will call it chapter 4, or what ever.
New set gear star-up system. Each part of set gear can star-up from 1-20 stars with respective scroll, jewel, and crystal. Thunder set increase 400hp per stars (40k hp with full stars), Wind set increase 500hp per stars (50k hp with full stars) and so on.
Gear melting system. Purple gear can melt into blue and purple crystal, while Orange gear can melt into purple and orange crystal.
VIP Shop system for VIP2 and above.
New VIP benfits:VIP1, 1 touch recover 20 vit in harbor. VIP2, 1 touch fishing for free. VIP5, 100G for epic in daily task. VIP7/8/9 Dungeon limitation increased to 5/6/8.
More information in the crew interface. (such as, block rate, anti-block rate, magic-resist, combat, shadow and etc)
3 new shadow, block, antiblock and anti critical.
All SS shadow is now available.
Increase slave silver rewards, reduce training potion gained.
Enhance arena rewards
Challenge a player outside arena cost 20000 silvers.
Lower the gold needed to flip a card during super convence. (0, 100, 150, 200 and 250)
Lost in undersea prison can gain 10 special experience. (Previously 0)
2 new liveliness in secretary. 1. Challenge player outside arena for 3 times and 2. Challenge in Shicibukai Arena for 2 times.
Some improvement in Advance Hunting.
Improve Boa's graphic
Fix the hp bug shown during battle
Updated 28th Aug: So this is confirm upgraded as Chapter 3 in International server.

Latest update for August. It is 4.2 in Asian server, but probably will be under the same chapter 3 for english server.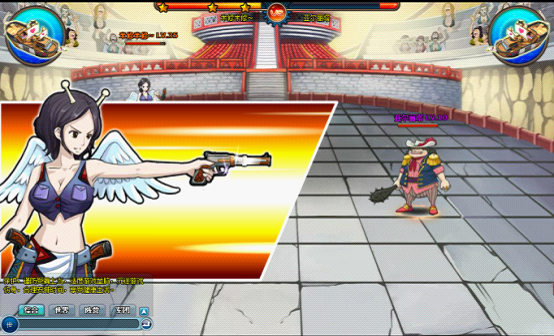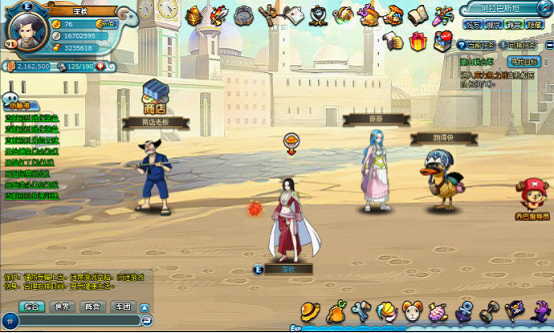 New UI for the main screen and prots.
Elite and Dungeon are listed together with more detail in new interface.
Newbie guide: Chopper, who will show you a list of tasks to get silver, honor, vit and etc.
Change the required level for Trial battle to lv28
No cool down when you win a fight in arena.
No cool down for gear enhance and aptitude if prot is under lv30.
CD for aptitude is greatly reduced.
Weaken the npc in the 1st level of underwater prison
New rules for shichibukai arena
Some minor tweak
Some screenshot here
Ad blocker interference detected!
Wikia is a free-to-use site that makes money from advertising. We have a modified experience for viewers using ad blockers

Wikia is not accessible if you've made further modifications. Remove the custom ad blocker rule(s) and the page will load as expected.